Bir değişim sürecinin üretimleri. Özgürlüğü kullanmak… Kelimelerden kurtulmak, harflerin yerini pixellere bırakmak. Hikaye anlatmak için zaman ve mekandan kurtulup boşluk ve kimliksizlikten faydalanmak. Eskiye bir saygı, yeniye bir gönderme. Ne yeni ne de eski.
Ya da siz ne görüyorsanız sadece o...
Creations of a metamorphosis. Using the freedom of the mind… Means getting rid of the words, replacing the letters with pixels. To tell a story without a time and a space using the void and anonymity. Respect to a tradition and at the same time an implication to all things new. It is neither new nor old.
Or maybe it is just what you see.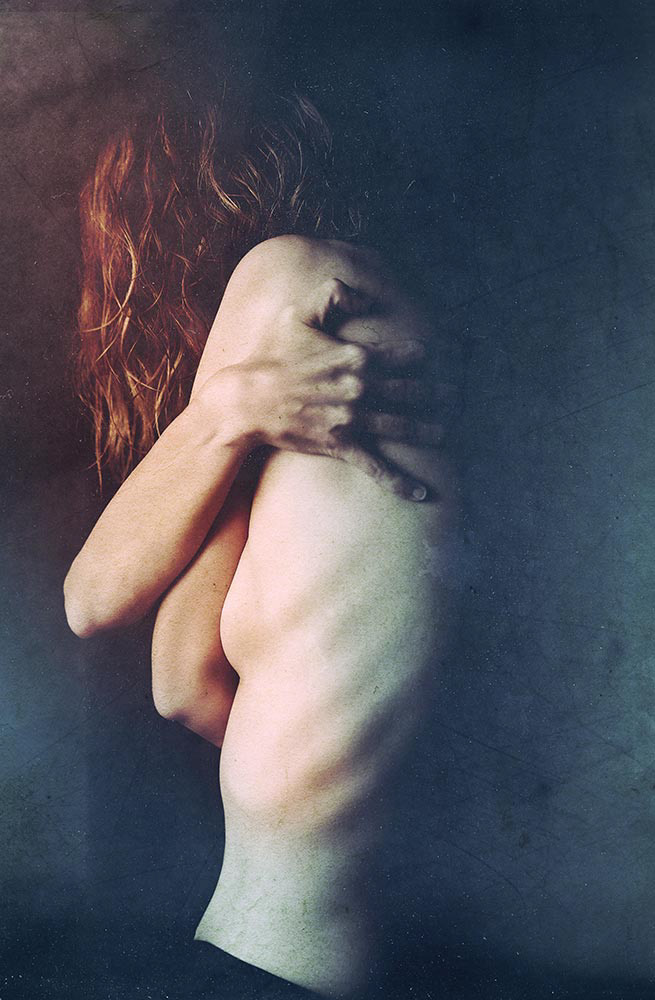 Serhat Akavcı'nın bireyin psikolojik dönüşümü ile eklembacaklıların kabuklarını değiştirdikleri dönemde yaşadıkları biyolojik metamorfoz arasında paralellik kurduğu fotoğraflarından oluşan ilk kişisel sergisi Ecdysis (Ekdiz) 14 Ekim 2021tarihinde Labirent Sanat'ta açılıyor.
First solo exhibition titled "Ecdysis" of Serhat Akavcı, whose photographs focus on the similarity between the transformation of human psyche and the metamorphosis of the arthropods during the period of changing shells, will be open on October 14, 2021, in Labirent Sanat art gallery in Istanbul.
Ecdysis kabuk değiştirmek yani, bedenin büyümesine, değişimine izin vermek, bir nevi yeniliğe imkan tanımak… Gözlemlenen dışsal bir değişim olsa da aslında hareket içten dışa doğru gerçekleşir. Doğadaki diğer canlılardan farklı olarak insanlardaki değişim ise uzun süreli ve sancılıdır. İşte Akavcı'nın sergide yer alan son dönem işleri de böyle bir değişim sürecinin üretimleri… Hem sanatçının hem asıl mesleği modellik olmayan bireylerin dönüşüm sürecine ait bir çeşit duraksama hali…
Exhibition title "Ecdysis" means changing the shell in a process of growing, unresisting to change which means opening and allowing an innovation. Despite the transformation looks like it only occurs on the outside, in fact it happens from inside out. While this is a natural process for most of the creatures of the nature, the transformation of the human psyche is more painful and takes a long time. Akavcı's works in this exhibition are the results of this kind of transformation process. His works can be regarded as a hesitancy period during this process in which neither the artist nor the artist's models, whose main professions were not being art models, can break loose from this transformation.
Kimliğin dışsal, modifiye izlerini bulanıklaştırdığı, hatta gizlediği fotoğraflarında Serhat Akavcı izleyiciyi, bedenin koruyucu ama bir o kadar da şeffaf katmanı, ten üzerinden bir diyaloğa davet ediyor. Akavcı'nın çalışmalarında nesneleştirdiği bedenler, söz ve yazı öncesi bir dönemin iletişim dilinin taşıyıcıları gibi… Kendini sunarken gizleyen, kendi olmak için tüm çıplaklığıyla dışa yerleşmiş figürlerin, beden dili üzerinden yazılmamış hikayelerine tanık oluyoruz. Serhat Akavcı'nın Ecdysis isimli sergisini 14 Ekim – 13 Kasım 2021 tarihleri arasında Labirent Sanat'ta görebilirsiniz.
He invites the viewer to a dialogue with his photographs with the human skin as the transparent but protective layer of the human body, in which the modified traces of the flesh blurred, and recognizability of a person was blurred to hide the identity. In his works the human body becomes the objet d'art itself, and as a conveyor of a message that just like the prehistoric cave paintings without words and letters manage to communicate. We witness the unwritten stories described by the body language of the nudes that hiding themselves while presenting and standing out with their pure forms to become themselves. You can visit Serhat Akavcı's "Ecdysis" exhibition from October 14 to November 13, 2021, in Labirent Sanat art gallery in Istanbul.